Attorney Roberto Ambrosino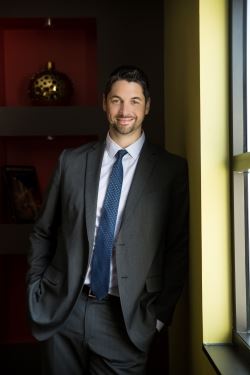 Welcome to the Law Office of Roberto Ambrosino, PLLC. I take pride in being an advocate for the accused and those whose backs are against the wall. I grew up in a working class household to a first generation Italian immigrant father and mother who was a veteran, and became a college graduate. Growing up in a small coalmining town near Pittsburgh, Pennsylvania, I learned to appreciate the merits of hard work and sacrifice—which is why I work with my clients today to make legal representation a reality.
In college, I graduated with high honors while working as waiter at local restaurants in addition to carrying a full-time course load. There I was involved with student government, wrote for the college newspaper, served as President of the Pre-Law Society and Phi Alpha Theta history honorary, and was named as an outstanding scholar in Political Science. In college I also "earned" numerous speeding tickets over several years. As a broke college student, I could not afford to pay the hefty fines and had my driver's license suspended as a result. I learned the hard way how unforgiving the law can be.
While attending law school on a scholarship at Texas Tech University, I interned for the Innocence Project of Texas, reading letters from incarcerated citizens and analyzing their claims of wrongful imprisonment. I also served as a research assistant for a law professor. I conducted research for the article: "Throwing the Baby Out with the Bathwater: A Call to Reinstate the Public Housing Drug Elimination Program" (Vol. 18, No. 4), published in the American Bar Association Journal of Affordable Housing and Community Development Law. I also focused on trial advocacy, clerked for local law firms, and acted as a student attorney on behalf of Legal Aid of Northwest Texas, advocating for Texans in court before I even graduated law school.
Prior to opening my own practice, I worked for a prominent civil rights law firm. The case on which I worked the hardest involved faulty urinalysis drug tests administered by the Bexar County Probation Department and their contracted drug lab. Those cases made me aware of the injustices within the justice system and served as the force behind the opening of my own criminal defense practice in 2009.
Today, I have a thriving criminal defense practice. I have been practicing for over a decade, handling thousands of criminal cases in over 40 Texas counties. My clients have included teachers, doctors, students, corporate executives, nurses, other lawyers and working class Texans. I have accumulated well over 100 positive client reviews and attorney endorsements. I have been recognized for excellence in criminal defense by Scene in S.A. and San Antonio Magazines, Expertise, Avvo, ThreeBest Rated, and I have been named as a Texas Rising Star by Super Lawyers for three consecutive years: 2018, 2019, and 2020. I have been a member of the San Antonio and Texas Criminal Defense Lawyers Associations, the State Bar of Texas Criminal Justice Section, the College of the Bar, and have an "A+" rating from the Better Business Bureau.
I make my home in Helotes with my wife Tracy, a School Psychologist, and three children: Dylan, Madeline, and Claire. When not in court or chasing children, I spend my time watching and attending San Antonio Spurs, Texas Tech, and Pittsburgh Steelers games, hiking, swimming, and coaching youth sports.