Attorney Roberto Ambrosino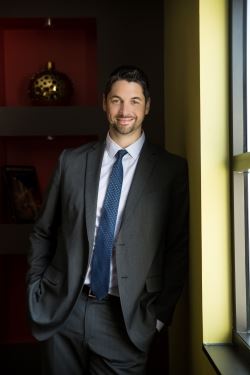 Welcome to the Law Office of Roberto Ambrosino, PLLC. I pride myself on being an advocate for the accused. Having a blue collar background, I can emphasize with all accused citizens—which is why I work with clients to make legal representation a reality. The son of an Italian immigrant father and mother who was a veteran, I became a first generation college graduate. Growing up in the small coal-mining town of Uniontown, Pennsylvania, I learned to appreciate the merits of hard work and sacrifice.
Past
Prior to opening my own practice, I was an associate for a prominent civil rights law firm. The case on which I worked the hardest involved faulty urinalysis drug tests administered by the Bexar County Probation Department and their contracted drug lab. Those cases made me aware of the gross amount of injustice within the criminal justice system and served as the force behind the opening of my own criminal defense firm later on in 2009.
While attending law school on a scholarship at Texas Tech University, I interned for the Innocence Project of Texas, reading letters from incarcerated citizens and analyzing their claims of wrongful imprisonment. I also served as a research assistant for a law professor. I conducted research for the article: "Throwing the Baby Out with the Bathwater: A Call to Reinstate the Public Housing Drug Elimination Program" (Vol. 18, No. 4), published in the American Bar Association Journal of Affordable Housing and Community Development Law. I also participated in the trial advocacy program, and acted as a student attorney for Legal Aid of Northwest Texas, advocating for citizens in court before I even graduated law school.
In college, I graduated Magna Cum Laude, or "with high honors," mostly while working full-time as a food server at local restaurants in addition to a full-time course load. This was also a time when I had my only brush with the law involving numerous traffic tickets I had received over the course of a few years. As a college student, I could not afford to pay the hefty ticket fines and had my driver's license suspended as a result, I learned the hard way how unforgiving the law can be.
Present & Future
Today, I have a thriving criminal defense practice. I have been practicing for over a decade, handling thousands of criminal cases in over 30 Texas counties. My clients have included teachers, doctors, students, corporate executives, nurses, and other lawyers. I have been recognized for excellence in criminal defense, and have accumulated nearly 100 positive reviews and attorney endorsements on the internet. I make my home in Helotes with my wife Tracy, a school psychologist, and children Dylan, Madeline, and Claire. When not in court, I spend my free time attending San Antonio Spurs games, watching my Pittsburgh Steelers, and taking my family to Sea World and the San Antonio Zoo.
Awards & Recognition
Selected to the 2018 - 2020 Texas Rising Stars list for Super Lawyers
Best Criminal Defense Lawyer - Expertise
Best Criminal Defense Lawyer - San Antonio Magazine
Best Criminal Defense Lawyer - Scene in SA Magazine
Clients' Choice Award by Avvo
Top 100 Trial Lawyers - The National Trial Lawyers
"A" - Rating Better Business Bureau
ThreeBest Rated As Best Criminal Defense Lawyer
Past & Present Affiliations
San Antonio Criminal Defense Lawyers Association
Texas Criminal Defense Lawyers Association
American Bar Association
College of the Bar
State Bar of Texas Criminal Justice Section
Better Business Bureau "A" Rating
Attendee, Texas Advanced Criminal Law Seminar